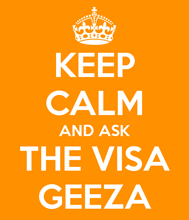 The Capital Investment Entrant Scheme  was a god send for reasonably well off people who have always fancied the idea of residence in Hong Kong but who were reluctant to start an operating business to be able to accomplish this. The following question raises the issue of how to disentangle yourself from the visa, releasing your CIES investment funds (either HKD6.5 or 10 million depending on when you were approved) at the end of your 7th year holding that status. The CIES, of course, was cancelled in 2015.
QUESTION
"Hi Visa Geeza, my family has invested with HK under the CIES and have been granted Identity Cards thereafter. (Pls note that we are not employed nor running a business in HK – but outside – so we are not considered as expats.) This year marks our 7th year and we would like to apply for permanent residency. We know that applicants under CIES need not to stay in Hong Kong as much as those who are applying simply for permanent residency. Could you tell us where we can find the eligibility requirement specifics for applicants from the CIES particularly for the required number of days stay in Hong Kong for the last 7 years?  Thank you."
ANSWER
This question gets to the heart of what you can do after you've held a Capital Investment Entrant Scheme Visa for a total period of seven years.
The Capital Investment Entrant Scheme Visa is a program that was introduced in the early noughties to allow people with money at that time six and a half million Hong Kong dollars but now ten million Hong Kong dollars cause it's a, might have a couple of years ago, allows those money investors to effectively lock their funds into certain types of Hong Kong assets and as long as they possessed those assets for the requisite period of time that the visa has been issued, they can get an extension as long as they're still owning those assets at the time of the extension and continue to do so through to seven years whereupon you can make an application to the Immigration Department to change your immigration status and in the process release the seven years' worth of invested funds and put them to your own use once again.
So, at seven years the opportunities to either become a permanent resident securing the right of abode in the process or you go on to security immigration status course unconditional stay. Now the right of the abode is affected with current residence. Unconditional stay is an administrative convenience where the Immigration Department are prepared to allow you to remain in Hong Kong unconditionally without any requirement to invest, without any requirement of a sponsor, without any requirement to engage in any particular type of activity as a rationale for remaining in Hong Kong.
Effectively you can stay here unconditionally although it is a bit of a misnomer because there is one condition attached to unconditional stay and that is that you have to have been physically present with Hong Kong on at least one occasion in a 12-month period in order to maintain an unconditional stay status.
So, the Immigration Department realized when they introduced the Capital Investment Entrant Scheme Program that people may want to secure the immigration status but may they not decide that they want to live in Hong Kong full-time and as a result of that it may have been the case that not having been in Hong Kong for the requisite 7 years continuous ordinary  residency in Hong Kong and not having taken Hong Kong with your own the place of permanent residence, which is the provability test for the right of abode and such Capital Investment Pension Scheme Visa holders may not qualify for the rights of abode and the residency.
In respect of unconditional stay there is no specific requirement for a set number of days for example indeed any kind of time whatsoever having perhaps dispensed in Hong Kong but conceptually you could have spent all of the 7 years outside of Hong Kong but kept your investment in Hong Kong and qualified for the Capital Investment Entrant Scheme Visa throughout all of that time and then at the end of the seven years simply make your application for unconditional stay knowing that you'll never get the right of abode because you didn't have continuous ordinal residence.
Unconditional stays is a really simple application to make once you get to the 7 year mark. So ideally if you've got the circumstances in playing for the ride of abode but judging from your question it's suggesting that you're not considered as expats therefore residents in Hong Kong.
It may well be that the right of abode is simply not available to you. So, in that regard it may well be that unconditional stay is the route for you. For all practical purposes unconditional stay is exactly same immigration status that you have presently been enjoying as Capital Investment Entrant Scheme it just means that you can unlock the money from Hong Kong and put it to other uses.
So, I trust that that has answered your question and there are lots of other articles on the blog about the process of securing the right of abode and I'll put a few links to some relevant articles at the bottom.
More Stuff You May Find Interesting or Useful
| | |
| --- | --- |
| | |
| PODCAST ANSWER | |
Podcast: Play in new window