4 Realistically Achievable Visas | Live | Work | Establish A Business In Hong Kong | Employment Visa
Posted by The Visa Geeza / in Employment Visas, Feature Article, Musing, VG Front Page / 1 response
Establish A Business In Hong Kong | Employment Visa | Can You Get One?
The employment visa under the General Employment Policy is detailed in this video …
Establish a business in Hong Kong and get yourself an employment visa? A few years ago, I was invited by the good guys at WYND to give a talk about the Hong Kong visas that are the most realistically achievable to live, work or establish a business in Hong Kong. So, if you're a foreign national hoping to establish a business in Hong Kong, you may be wondering about the visa requirements. One of the options available to you is the regular employment visa IF your company is already 'well established'.
Employment Visa?
The regular employment visa is designed for foreign nationals who have professional skills, knowledge, or experience that are not readily available in Hong Kong. To qualify for approval, you must meet a specific set of criteria as assessed by the Immigration Department. One of these is that your company must already be 'well-established'
Well-Established?
This means that the company that you own:
Has been trading for at least 12 months.
Ideally profitably.
Is already an employer of Hong Kong locals.
Has suitable business premises.
Has sufficient funds to operate solvently.
Who Can Apply?
To be deemed a Professional for the purposes of this visa, the Immigration Department is looking for applicants who have a university degree and at least two years of post-graduation working experience in a managerial or supervisory capacity.
If you don't have a university degree but have technical qualifications, then you must have at least five years of post-qualification working experience in similar roles.
For those who only have a high school education, the Immigration Department expects to see that you have at least ten years of post-secondary working experience in a managerial or supervisory capacity.
How To Get One?
To secure a regular employment visa if you're 'establishing a business' you need to be at least a 50% shareholder in a well-established company registered Hong Kong company. You need an employment contract with your own enterprise with compensation broadly commensurate with market rates.
The Immigration Department will look into the company's history, including its turnover, local staffing, and business operations, to ensure that it's a bona fide sponsor.
If you successfully obtain a regular employment visa, you'll receive a two-year stay limit. This visa only allows you to work for the business that has sponsored you, doing the specific work outlined in your contract.
These criteria can be adjusted depending on the actual circumstances of the application but generally stated a wholly new company cannot expect to secure an employment visa for one of the founding-owners. It's the business investment visa as an entrepreneur which is the correct visa type to apply for as new companies are by definition not 'well established' and so the criteria for approval is to demonstrate that the new business can contribute substantially to the economy of Hong Kong in order to anticipate approval.
Can You Establish a Business on the Side?
If you are an out-and-out employee working for a third-party employer and want to establish a side business or do some freelancing, you may apply for permission from the Immigration Department. You must have written approval from your employer that they have no objection to your side endeavours.
Last Words …
Obtaining a regular employment visa CAN be a way to establish a successful business in Hong Kong. However, make sure to fulfil all the requirements and understand the limitations of the visa before starting your business.
VisaGeeza
.

Ai – Making Hong Kong Immigration Easier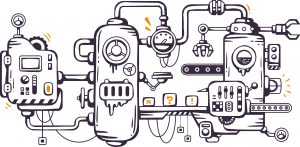 VisaGeeza.Ai – 13 Years In The Making
All Our Know-How: All Our Experience: Fully Interactive
100% FREE

The Rest of the Series
6 – Employment Visa