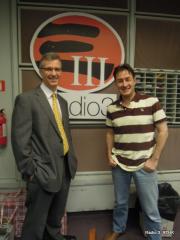 Phil  and I had a rare old discussion yesterday when he had me back on Morning Brew over at RTHK Radio 3. By the time I got there he had, unbeknownst to me, prepared the judges words from a recent Hong Kong court case about transgender recognition which he wanted to debate. The whole session lasts about 20 minutes but here is the opinion (from 6.08 in) I gave when he sprung the question on me out of the blue and asked me to bear my soul on air.
" I think the judge is effectively opening the ground for discussion to good things like equality for same sex partners and people who have made the decision that they are going to change their gender and who should have the reality of their change of gender reflected in legal protection. Why should they be discriminated against just because of the way they were born and the way that they view the world?  In due course I think that same sex partners in Hong Kong are going to get the right kind of treatment that they deserve ".
You can listen to the whole discussion here.
Phil and Morning Brew are highly active on Facebook and you can listen live to Phil's show daily, via the web here.
More Stuff You Might Like
Listen To The Show
Podcast: Play in new window