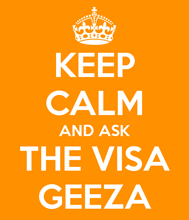 I have received 2 questions on the topic of 'long stay' visitor visas and the extension possibilities in the last 24 hours so am taking the opportunity to merge them into a single answer here.
QUESTION
"Hi, I think I could use some of your quality advice. My situation seems to be quite complicated, so I will keep it as simple as possible.
Last year, I moved to Hong Kong between October and March. I obtained a 6-month training visa for this period. Between the end of March and June, I traveled around Asia and returned to Hong Kong for a week during the beginning of June (on a visitor visa). I then returned home to Europe, where I decided that I wanted to move back out to Hong Kong in search of a permanent position (and live with my sister in the meantime). I have now been in HK since the 16th of August (approx 75 days) and therefore I am nearing the end of my visitor visa. I still have not found a job, therefore I have to go about renewing it. 
I would like to know from you, what you would do in my situation for the renewal of my visitor visa. I have heard that I can do a quick return trip to Macau or that I can submit a demand to the Immigration Department and request another 90 days. What method would you suggest?"
AND
"Hi Visa Geeza, I've got a question. For the past two years I have stayed in Hong Kong for over 500 days (in and out of Macau every three months/90 days) and now I'm wondering how long I can pull this off without raising red flags. I am not employed in any way and have just spent my days with my daughter who's studying at university here."
ANSWER
I've covered a lot of ground in recent times about the issue of visitor visas and what it takes to get them extended. All of this material is detailed in the links that I included on this post.
But these two questions get to the heart of what the Immigration Department make of people who have genuine reasons to visit Hong Kong and want to stay on an extended basis. But in the final analysis, the essence of the answer raised this question. Is really this follows, firstly if you apply for an extension to visit a visa immigration tower it's your opportunity to explain to the Immigration Department about what's keeping you here and it allows Immigration Department take a view as to your activities and your rationale for remaining. What is really a long stay basis as a visitor?
And then secondly, in disclosing your circumstances to Immigration Department and the Immigration Tower, this way you can expect to receive an extension to the visitor visa that they think is commensurate with the need to stay longer versus the time that you've already planned here.
Thirdly, as part of the extension exercise you can expect the Immigration Department to ask you to give an undertaking as to when your visit will end and that you will leave Hong Kong for good. Meaning for a least a 12 months period before you're seeking to return.
Fourthly, if you decide not to apply to Immigration Tower then you need to exit and then you need to leave Hong Kong via the airport or via the Macau Ferry Terminal or the [Unclear] one of the boundaries to China.
Fifthly, each time you present yourself to the airport or the boundaries the Immigration Officer in front of you is assessing you afresh as to your bona fide days as a visitor each time you  present yourself.
Sixthly, bear in mind that the immigration officers have every discretion to refuse to admit you, that they can admit you for just a short period only, they can give you a short conditional landing status or they can simply let you through.
And each time you present yourself this is a new examination of your circumstances but it's also true to say that once you spend more than 180 days as a visitor in any given 12 month period they're likely to appear on their radar as you make your entry into Hong Kong.
Also note that a visa to visit is just that. It isn't a resident visa and your time in Hong Kong as a visitor is going to come to an end sooner if not later. The longer you're able to string out your time in Hong Kong, the sooner you're going to have to leave permanently. But having family who have residency in Hong Kong is a good reason for spending an extended period of time here and can explain your visit history accordingly, but it doesn't afford you the residency rights in on itself and the only way you can properly factor family into the visitor visa mix is to present yourself at Immigration Tower and allow them to understand all of this and to take a view and to determine exactly how much time you're going to apply to remain here.
But it's fair to say that the guys in Wanchai, are a lot less generous about what you can get away with that you can at the border but it's at the border where the biggest risk lies.
More Stuff You May Find Useful or Interesting
PODCAST ANSWER
Podcast: Play in new window