Your Employer Has No Plans To Help You Secure Your Hong Kong Employment Visa?
Persuading & Educating Hong Kong Employers On How The Employment Visa Sponsorship Process Works
The Problem
Employer to help secure your Hong Kong employment visa? For reasons often known only to themselves, some Hong Kong employers hold the belief that the foreigners they wish to employ can go about securing the all-important visa approval with little or no contribution on their part. This short discussion sets out how to go about educating them on the actuality of the process.
A Two Party Process
Most employers understand that, in order to secure your Hong Kong employment visa, it involves a two-party process and so employers thus typically engage wholeheartedly in the exercise in order to bring new foreign national employees into the ranks of their paid workforce.
On occasion, however, due to a fear of disclosing information needed for the application, an employer may distance themselves from the process and ask the prospective employee to sort out the visa situation on their own.
This, in fact, is churlish.
You see, if you want the employment to commence, both parties will have to engage in the process because no single party can divorce themselves from the challenge of getting the necessary approvals.
It's as simple as that.
Information Needed
The employer needs to provide the following information in order to help secure your Hong Kong employment visa  (at the very least):
Business information
Company financial information
Details about current staff, including their salaries
Sponsorship details, including an undertaking to fund the cost of your incarceration if you need to be removed from Hong Kong for any reason
Managing The Application
Assuming you have employers prepared to play ball in this respect, it is possible for you, the applicant, to manage the process on your own. However, any follow-up requests from ImmD could bring your employer back into the picture, and they need to be ready and willing to participate.
Handling Sensitive Information
To ease your employer's fears, they can agree to supply any perceived sensitive information required for your application in a sealed envelope to the Hong Kong Immigration Department directly, against your official reference number, and away from your prying eyes.
Suitable & Credible Sponsor
Finally, your new employer should be aware that going through the process of securing an employment visa for a foreign national employee lays down the foundation for being deemed a suitable immigration sponsor, both now and in the future. This could lead to positive rewards when seeking to recruit other foreign staff members. They should therefore embrace this opportunity wholeheartedly.
VisaGeeza
.

Ai – Making Hong Kong Immigration A Lot Easier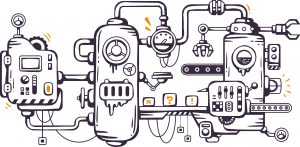 VisaGeeza.Ai – 13 Years In The Making
All Our Know-How: All Our Experience: Fully Interactive
100% FREE!
More Stuff You May Find Useful Or Interesting